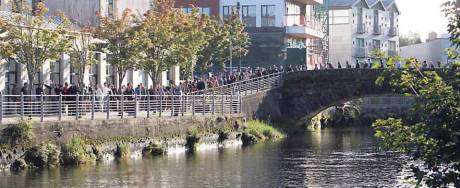 How to sign for dole? Where to sign on for dole?

Go to your local social welfare office. To find your local office click

here. Read signing on guide here.

What are the current payments for JB/JA?

Personal rate at the moment is € 204.30
Which documents needed for the dole?

Your PPS Number, payslips, P60, P45, letter of redundancy, proof of address, proof of identity



How and when to collect dole from post office?

You should receive a letter stating your collection day and post office name.
How many days do I have to collect the dole from post office?

Usually it's 3 days. Confirm this with your post office clerk.
What to bring to post office to collect dole? What if I don't have a swipe card for dole?

You will need to bring your

swipe card

(social services card) or a

temporary signing card

(yellow), which you can get in your social welfare centre.
What do I need to bring when signing for the dole?

Your PPS Card (swipe card).If it's your first time bring proof of identity and grab a letter you received in the post.
What if I missed a weekly dole collection? It might be still in the post office. Go to post office and check.If not immediately go to social welfare centre. It will be reissued to you and might take longer.

What is the phone number for Social Welfare Office? 1890 66 22 44 (Lo Call) (from within the Republic of Ireland) 9.30 a.m. to 5.00 p.m. Monday To Friday
If you have any problem email to

info@welfare.ie
Hope you found this information about dole helpful.
Please remember that I'm not representing Social Welfare.